Formed in 2010, White Magic is a mountain guiding company delivering meticulously planned, carefully curated and safely executed adventure trips to various corners of the Himalaya and to a few of the 7 Summits (outside the Indian sub-continent). We manage end to end execution, including trip design, putting together equipment, logistic support, all done in house, by us, thus ensuring the highest performance and safety standards and consistent client experience that we are known for. For trips and expeditions outside the subcontinent we work with tried, tested and trusted local partners who share the same passion for impeccable delivery standards. Quality more than quantity, customer delight more than mere satisfaction are the guiding forces behind the strong and steady strides that we are making in the Mountain Guiding Landscape. 
Our belief!
We believe that adventurers world over share the common urge to experience remote, wild and beautiful locations, break out of self imposed limitations, overcome difficult odds and achieve challenging goals. The adventurer finds deep personal satisfaction, self realisation and peaks out on self confidence in this journey of pushing himself/herself beyond the realm of possibilities. It is White Magic's goal to help our clients experience these feelings, repeatedly, on their every outing with us.
Achieve your Adventure Goals in Comfort & Safety
We will help you to travel to wild and beautiful places that you have never gone to before, we will help you raise your mountain skills and personal resilience to the next level, to take calculated risks that you might hesitate to take on your own and so enable you to achieve your adventure.
For first timers in the mountains we offer holidays that combine modern creature comforts with the excitement of being in wild places. For trekkers we offer a number of spectacular multi-day treks with overnight tented accommodation and excellent food. For climbing enthusiasts we run specialised mountaineering expeditions in the Himalayas and some other big mountains around the world.
Call us to discuss your adventure goals – our experienced and knowledgeable trip leaders will help you find a trip with just the right blend of challenge and enjoyment, while providing you with an opportunity to go to the next level.
Regions we can take you
---
The Himalayan Range
Himalaya, meaning " snow abode" is an uninterrupted range of mountains and peaks that has long fascinated and challenged adventurers. While mountaineers look at it as an ultimate challenge, aspiring trekkers have it on their bucket list. Extending from West to the East in the form of a 2,500 km curve, people come to the Himalaya for many reasons -  to seek knowledge, solitude and enlightenment, adventure and challenge.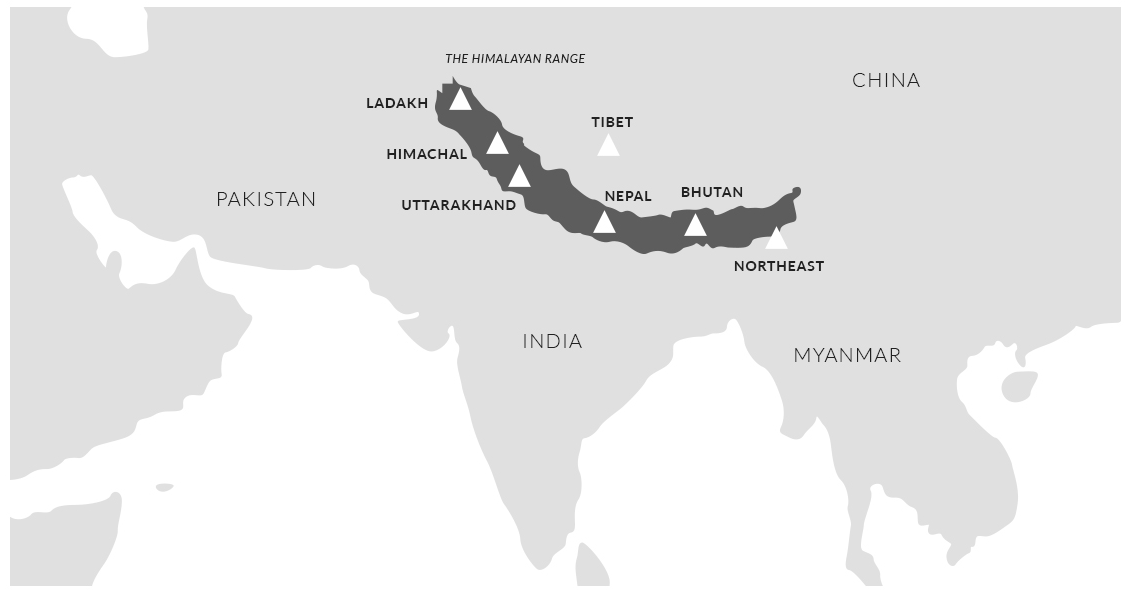 The 7 Summits
We are offering 3 of them (Dark Grey)

Food & Equipment
---
Our chefs and kitchen staff routinely produce a mouth-watering spread of tasty, hygienically cooked dishes at every meal. While trekking, a nutritious and tasty packed lunch is provided. We offer Local, Chinese and Continental cuisines and use locally purchased produce. Our meals are carefully designed to be balanced, nutritious and tasty. The emphasis is on a high carbohydrate and largely vegetarian diet, which we have found is more easily digested in the mountains, especially at higher altitudes. We accommodate a wide variety of dietary preferences and have even served gluten free food on occasion. Meal helpings are generous and the drinks and snacks are always plentiful. We provide you with ample safe drinking water throughout a trip – the water is collected from known clean sources and is then boiled, cooled and a dash of iodine added at times as an precautionary measures.
-
We use the highest standard of equipment on all our trips. On our climbing trips we use only UIAA / CE tested climbing equipment. All our equipment undergoes regular preventive maintenance. On treks we offer spacious three-men dome tents on twin- sharing basis so that you have enough personal space along with your equipment. You will be provided with foam mattresses inside the tents to sleep on. All trekking trips include toilet tents (dry pit), spacious kitchen tent and a dining tent with tables and camp stools. On all the trips going to altitudes above 5000m we carry a PAC (Portable Altitude Chamber) and Pulse Oximeters. An exhaustive first aid kit is always carried by the trip leader. With large groups the front and the rear are always covered by our team members equipped with Walkie-Talkie radios.