Trekking Peaks in India
by White Magic | March 5, 2017
Most people who have done some high altitude treks in the Himalaya start thinking of climbing a peak. The lack of information about what they can possibly attempt either stops them from doing anything or at times make them do something which might be technically too challenging and hence unsafe for a novice climber.
Trekking peaks are great to start off your climbing journey in the Himalayas as technical peaks require lot of time, effort and mountaineering skill. In this blog, we help you understand what a trekking peak is, its advantages and your list of options in India that you can attempt to get on your first Himalayan summit
What is a trekking peak ?
Though practically no Himalayan peak can be called a 'trekking peak', the term is used to refer to mountains which have a face or a route on it, which can be climbed without the need of technical climbing skill. On the way to the top, there is usually very little or no objective hazards like crevasse filled glaciers or avalanche prone slopes or rock fall areas.
Apart from this most trekking peaks can be attempted from the Base Camp itself unlike higher or technical mountains where we end up setting multiple camps above the Base Camp. This means that on most trekking peaks we can trek to the Base Camp (this would be like any other high altitude trek) and after spending some days to rest / acclimatize at Base Camp we make an attempt for the summit. So trekking peaks are essentially a high altitude trek combined with a long & tough summit day. Most summit days can end up being anything from 10-16 hrs of walking at high altitude. 
Why choose a trekking peak?
Though there are many reasons which favour choosing a trekking peak for your next Himalayan summit, the most important reason which makes it a good proposition is how hassle-free your trip would be from planning it to reaching the summit. Most technical peaks require a lot of bureaucratic procedures and rules that you need to follow. From booking a peak for a particular date, months in advance and having to meet lot of criteria in terms of experience and courses you have completed to dealing with the government authorities, it all sometimes feels much more tedious than climbing the peak itself!
Trekking peaks on the other hand have simple and straightforward procedures and permits can be obtained just before the climb and there is no mandatory requirement of proving your mountaineering capabilities. Similarly in the mountains, trekking peaks have quicker access and easier approaches.
 
Because of easy permissions, and easy approaches the cost for climbing a trekking peak is comparatively far lower than climbing other mountains. 
List of trekking peaks in India -
1) Stok Kangri -  It is the most popular trekking peak in India standing at 6153m in Ladakh's Stok range. A quick approach to it's base camp from a major town - Leh - makes it convenient for most trekkers from all over the world to attempt this peak in a short time. This is probably the easiest of the trekking peaks considering the fact that there are practically no objective dangers on the route.  Acclimatisation is the key to success on this mountain. The only downside on this mountain is that the base camp at 4975m is really far away from the summit and hence the summit day ends up a long & exhausting day. Most people start from Base Camp at midnight and return to camp only post afternoon. The route involves crossing a glacier and then climbing the south face to get to the southwest ridge leading to the summit. Most years the south face has enough snow till early August after which the mountain can be climbed with regular trekking boots and without any mountaineering gear.
The direct approach to the mountain from the Stok village is risky as it compromises on proper acclimatization and should not be taken by people flying in to Leh to climb the mountain. One must have spent enough days acclimatizing before heading up this route.
There are many beautiful treks in the region which can be done to get to Stok Base Camp. Apart from offering a different & a beautiful scenery, these treks will bring you to base camp much better acclimatized and will also keep you away from the crowds till you get there. More on the trek here.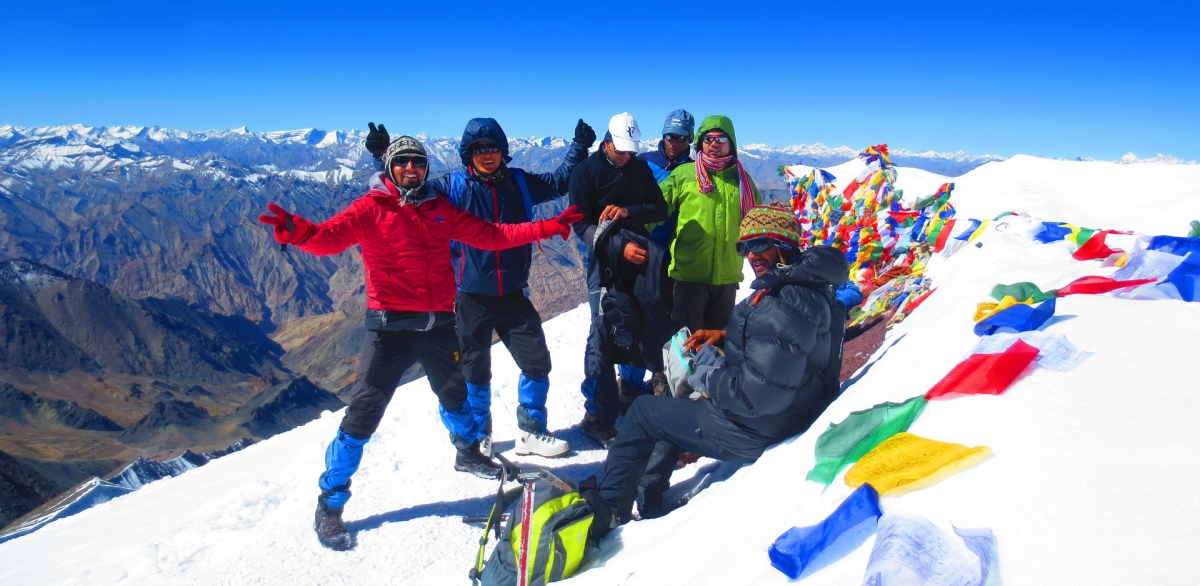 On the summit of Stok Kangri.
2) Kang Yatze 2 - KY2 also known as Kangyatse Shoulder - is a prominent summit of the Markha Valley region in Ladakh. Kangyatse massif has 4 peaks and only Kangyatse II is graded as a trekking peak. The route goes up the south west face and one has to negotiate a wide crevasse on the face of the mountain before attaining the west ridge. . More on the trek here.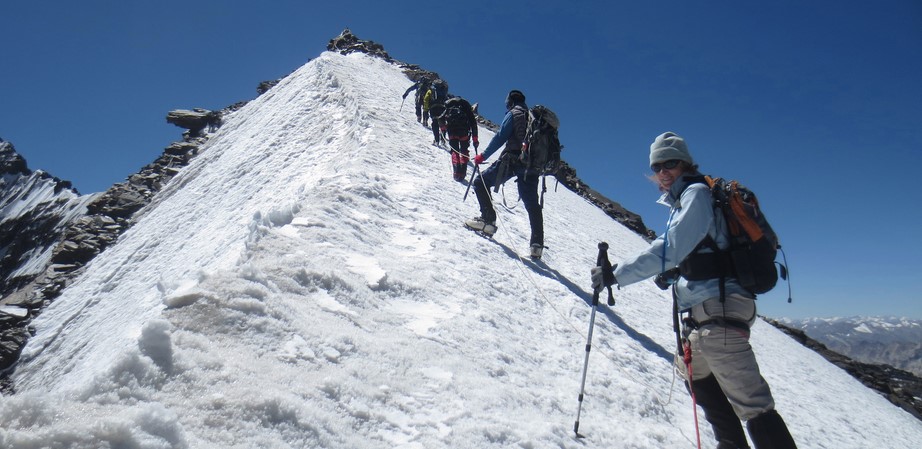 Heading towards the summit of Kang Yatze 2.
3) Dzo Jongo - A spectacular but lesser known peak in Markha Valley, Dzo Jongo is a formidable mountain standing at 6280m. The mountain is best climbed from its west face and involves about 200-300m of fixed rope climbing. Along with the Frienship peak it is probably the most technical of the trekking peaks and a highly recommended one if you were looking for something challenging. More on the trek here.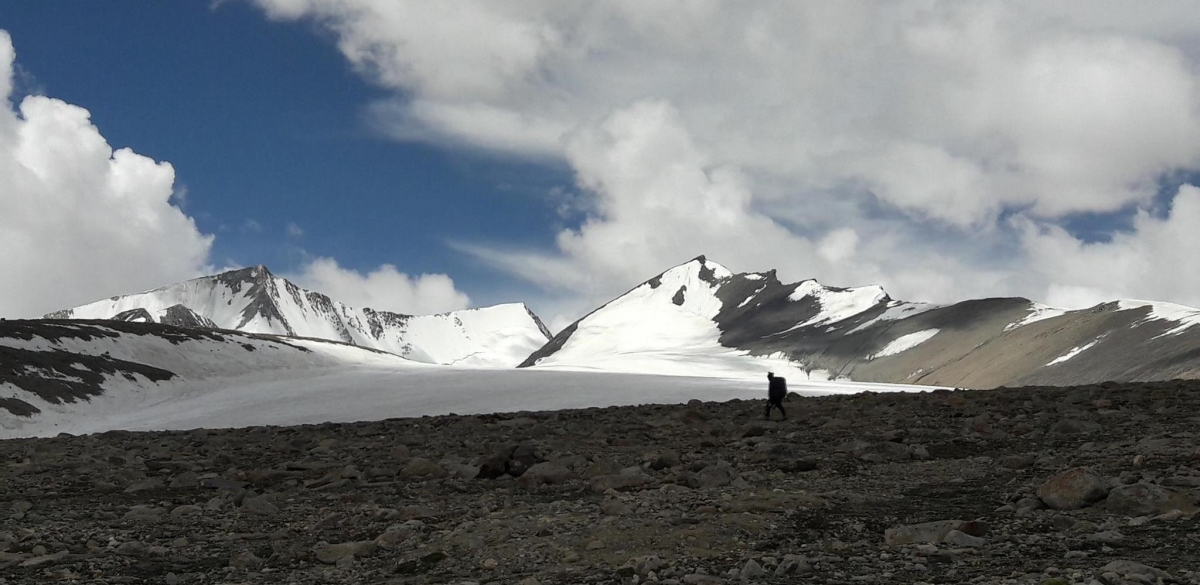 Hiking up to Dzo Jongo (center) base camp.
4) Friendship Peak -
One of the famous peaks in the Solang Valley near the Beas Kund area, Friendship peak is a great one to attempt if you want to get introduced to climbing in the Himalaya. Being low in altitude compared with peaks in Ladakh, people do not take it seriously and look around for loftier summits. This mountain is one of the most technical out of all the trekking peaks and is a solid climb. A glacier with deep crevasses needs to be negotiated and people should not attempt this mountain without an experienced guide. Since it is lower in altitude, it turns out to be a great mountain for practicing climbing skills, people do not get exhausted as quickly as on other bigger mountains.  The general practice is to set an advanced camp a few hours above base camp.
With beautiful approach march to the base camp, the summit day gives you great experience of climbing through the snow. More on the trek here.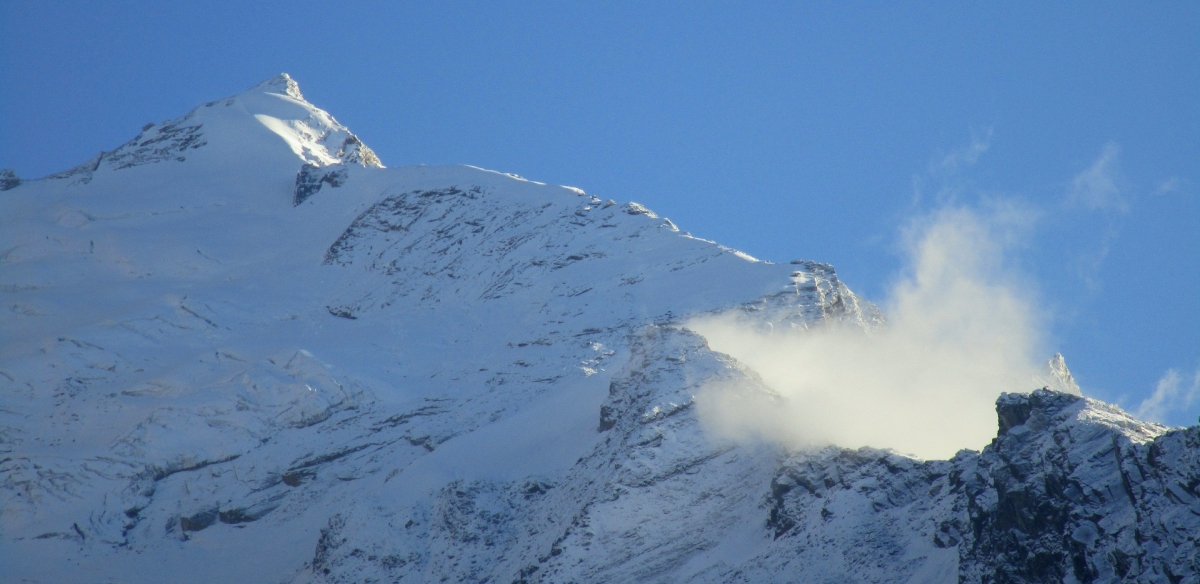 View of Friendship peak from lower reaches of Solang Valley.
5) Mentok Kangri -
Mentok range is a small range of mountains lying west of the Tso-Morori Lake. It has three peaks forming the Mentok group (Mentok I, Mentok II & Mentok III) and you get trekking permit for all three of them.Mentok Kangri II is the most often climbed mountain here and is a challenging 6,250 metre peak.
It lies in the Rupshu plateau, inhabited by the famous Changpa nomads. It is advised the one must start the trek from near Tsokhar Lake, crosses some high passes, and then attempt these mountains to factor in the acclimatization period. These mountains can also be approached directly by doing a 6 hr drive from Leh to Korzok. This approach saves a lot of time (and cost) but can prove to be dangerous for people who fly to Leh and then arrive Korzok in a few days without spending enough time acclimatizing. More on the trek here.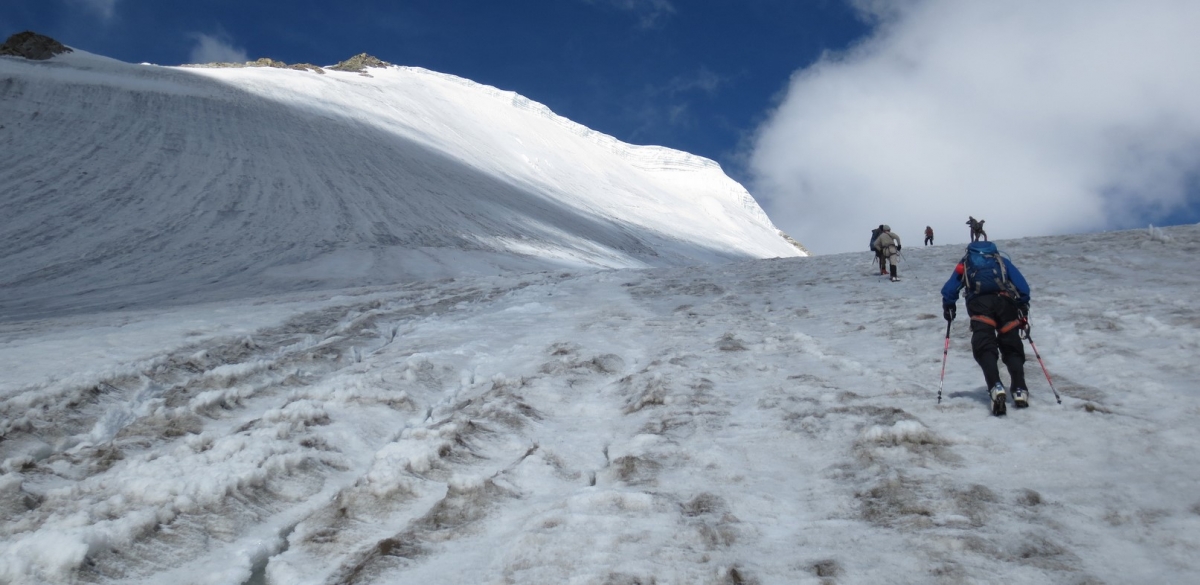 On the Mentok Kangri summit day.
6) Shitidhar - Very close to Friendship Peak in the Solang Valley of Himachal Pradesh, Shitidhar stands at 5250m. Facing several other peaks like Hanuman Tibba, Shitidhar Indra Asan and Deo Tibba, the summit of this peak offers spectacular panoramic views of the Pir Panjal and Dhauladhar ranges with the Beas Kund basin enhancing the beauty of the panorama.
There was an accident in Oct 2013 where 3 climbers were killed in a rock fall and since then people have been very careful on this mountain.
7) Ladakhi - Another peak along with Shitidhar & Friendhip in the same range in Solang Valley, stands a little higher than its neighbors at 5345m but offers similar stunning views of the high peaks in the region.
Now that you know your options  and have all the necessary information to decide on your peak. All you need to do is let us know on which peak you would like to join us.
Looking Forward to seeing you in the mountains. Happy Climbing!
---
SHARE THIS STORY