EBC Trek - Motherhood at 5364m
by Anita Singh | January 11, 2018
A fourteen-day journey, up in the hills, for the happiness and love of my child.
#motherhood@5364meters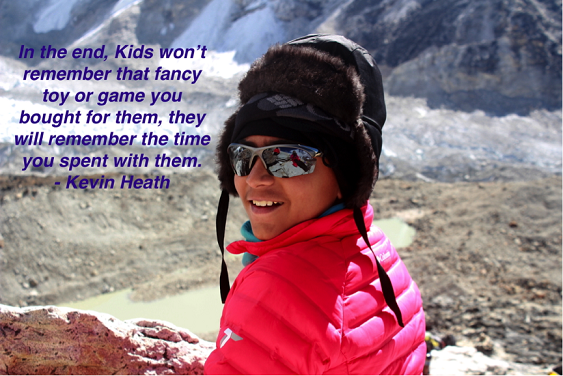 The Million$ Smile. Picture Courtesy: Prerna Sinha
My journey to motherhood hasn't been an easy one, yet it has been the most satisfying, fulfilling and a challenging experience. I can happily and confidently say that I have mastered and excelled at this role pretty well.
No, I am not an expert in parenting; I had my own share of frustrations, uptime and downtime. With my experience I can say parenting is compassion, passion and patience. To build a strong bond one must give TIME and unconditional LOVE. It is not about fulfilling your duties, responsibilities and sacrificing. It is about sharing, exchanging, uplifting, bonding and giving your child a unique and fulfilling life, as every child I believe is different and so is motherhood.
So what do you do when you have an adventurous, fun loving and super active kid?
Well you plan something extraordinary.
Planning holiday has always been my interest and forte, right from searching offbeat destinations, booking arrangements and planning travel itinerary. However this time as a mother I wanted to plan something extraordinary, reason?  Well it was my sons 13th Birthday and I wanted this to be an unforgettable experience.
So we decided to go ahead with a trek to Everest Base Camp. We knew it would be challenging, adventurous and yet an out of the world experience. This was our third trek together as mommy and son duo. Together as a team we prepared by doing some light cardio exercises – Brisk Walking, Swimming, Cycling, Stair climbing, Yoga and of course my son indulged in sports on a regular basis too. We were well equipped with the gear, clothes, woollens, munchies and chocolates. The list was endless.
Day 1,Kathmandu(1375 m)
There was excitement and eagerness as we boarded our flight from Delhi to Kathmandu. On reaching our hotel, we met all our trek mates. We were a team of 11 people, with two gentlemen 71 years old and my son being the youngest at 13. We were given a detailed briefing by our trip leader Sanjeev Rai and local guide Dumbar on weather, teahouse, mobile, battery charging, clothing, eatables, cash to be carried and items to be stored in day bag etc. Nepal is famous for beads, jewelry, and local artifacts with Kathmandu being popular for sightseeing and leisure walk in the local market.
Day 2,Fly to Lukla, trek to Phakding(2650m)
Early morning next day we flew to Lukla. We woke up at 3:30Am to catch our 6:30Am flight. It was pitch dark as we boarded our mini taxi; everyone was excited and anxious to begin the trek. Kathmandu airport was jam-packed with tourists from across the globe, being the peak season for trekking. My luggage got held for scanning, the officer suspected that I was carrying an "Oxygen Cylinder"JJ; well it was only a deodorant.
The aircraft was a tiny one with sitting capacity of 14 people (most aircrafts have similar capacity). It was 27 minutes of fun and roll. It looked more like a bus than an aircraft. My son was excited and thrilled; his adventurous journey had already begun. Lukla airport is listed among top 10 dangerous airports in the world. The time taken by the pilot to land felt less than a car would take to stop at a Delhi speed breaker.
As we reached our first teahouse "Yak Donalds", a young pretty lady greeted us. Ginger Tea, Hot Chocolate, Sandwiches followed. We also met our entire crew of Sherpas and Porters. It also included two young pretty girls.
After our break, we started towards our much-awaited adventurous journey, a journey all of us had been eagerly looking forward to. As it was Day1, the pace was slow and easy. The trails had both uphill and downhill. The surrounding was scenic and surreal, so was the weather - breezy and cloudy. We crossed our first suspension bridge. We stopped at couple of places for water break, washrooms (few planks precariously positioned over a pit in the ground), but of course covered with wooden doors, good enough for a trekker.
There were kids playing Soccer, Carrom and Badminton. Also the country is very pet friendly. One can witness many stray dogs; they seemed very much at ease with the tourists. We stopped midway for lunch. Trekkers usually prefer  "DAL BATH". They say Dal Bhath Power 24 Hours. It's the best balanced diet available.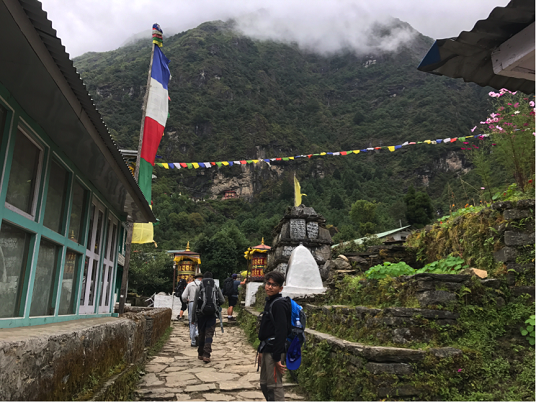 Lukla
On our way forward we saw many Stupas. Yaks, Horses and even Mules crossed us. One could see "Dhudh Choksi" river throughout. Finally we reached our first destination "Phakding". We were treated with great hospitality by White Magic. Mars Bar, Pakora, Ginger Tea and Hot Chocolate made a quick way into our empty stomachs. After a brief rest in our respective rooms we had a quick briefing for the next day, followed with awesome dinner. We were lucky to get Pizzas and Pies.
Day 3, Phakding to Namche Bazaar(3440m)
We began our day after a sumptuous breakfast – Porridge, Milk, Cornflakes, Toast, and Apple pie. There was ample variety to choose from (That's the Magic of WM). The trail was rocky and more like stairs. The weather was windy, misty and cloudy. We crossed couple of suspension bridges. It was a long walk of about 7-8 hours before we hit our teahouse for a lunch- Noodles, French Fries and Salads. We hogged and hogged. By now one serving was meaningless and hogging on food was no longer a matter of choice.
Post lunch was the major ascend, rather unbearable climb. My son Angad was exhausted but determined. We were at the end of our group. For me trekking is more for fun, leisure, the scenic views, valleys, mountains and enjoying the warmth and freshness of the air, so I prefer a slower and easy pace. It was a treat to see waterfalls all the way. Finally we reached our destination, Namche Bazaar. At our teahouse we were treated with Hot Chai, Hot Chocolate, Eggs, Maggi. The rooms were very comfortable. Angad was tired, I gave him a quick foot massage, changed his clothes. Finally post dinner we were quick on the bed for a long deserved sleep.
Day 4,Namche Bazaar (3440 m), Acclimatization Walk
It was fairly an easy and relaxed day. We woke up at 7:00Am with breakfast at 8:00Am. There seemed some confusion on the usage of "Diamox". As I had been to high acclimatization trek earlier with WM, I went ahead by the trip leaders advice of having the medication. But there were few other trekkers who wanted to go ahead without "Diamox". Sanjeev Rai did share his opinion and told the members to stick to their decision.
The weather was cloudy, cold and chilly. Since we could not get a good view, we went to "Sagarmatha National Park". The museum here was informative; there was ample information on Sherpa life, Herbs, Shrubs, Habitants etc. At the viewpoint, two female marathon runners met us. Selfies and pictures were clicked.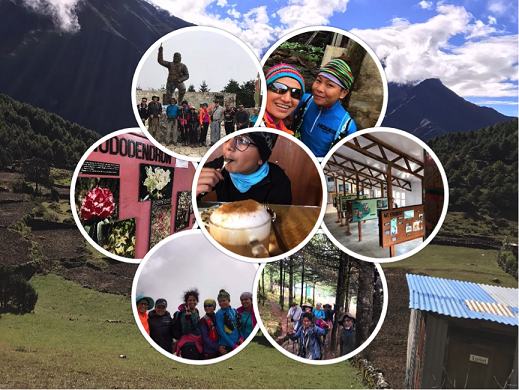 Sagarmartha National Park
After a few hours the sky was clearer and we went ahead with the acclimatization walk. The walk was rocky and steep. We were met with floating clouds as we climbed up 200 meters, with some amazing downhill views. Our trip leader felt the climb was good enough to get acclimatized, so few of us started with descend, while others from our group went ahead only to be disappointed without a good view.
Lunch followed, by now Dal-Bath-Power was taking a toll on us. JJ We went ahead for some shopping. Namche Bazaar has some great shops and bargaining is a must. One can get a good pair of glares, buff and original branded clothes. There are ample bakery shops. We explored the German Bakery the most recommended one. We ended our day with a sweet taste of Chocolate Carrot Cake and Coffee.
Day 5,Namche Bazaar to Tengboche (3790m)
A bright and sunny day, a long walk full of uphill and downhill also with best views so far. The weather was chilly and pleasant. While on the suspension bridge, we saw couple of crazy trekkers jumping and shouting.
Yaks, few horses were seen before lunch. Post lunch the walk was long ascend and tiring. Finally we reached our destination. Here again we had an awesome bakery, so mom and son binge on coffee and brownie. In fact, all the other members went ahead, ordered mouth-watering bakery stuff. A lady manages this bakery. It was expensive but worth the cost. By now the packaged water had touched a price of 250 – 300 Nepali Rupiah.
Angad had made good friends with the "Rajpal Brothers", three young and fun loving cousins from Karnal and he seemed to be an expert in playing Cards. Sanjeev Rai sang a beautiful song and entertained all of us. Meera and Justin performed on the famous "Lungi Dance". Madhur displayed strength by some strong push-ups. The day was called off and we looked forward to our much-awaited sleep. The home stay had shared toilets, with no flush J, only drum of water and mug to help. But then that's the beauty of life.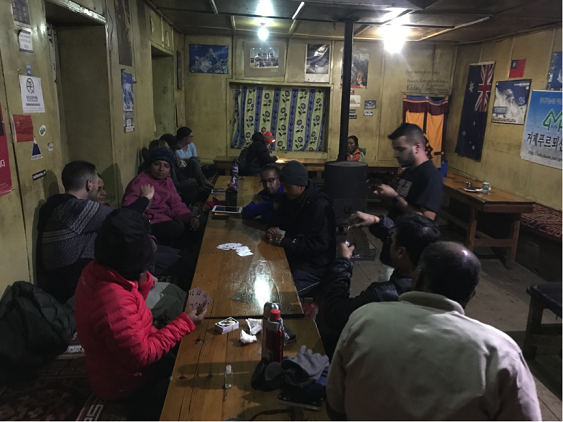 Dhumbal – Nepali Card Game
 
Day 6,Tengboche to Dingboche (4320m)
It was expected to be an easy walk with amazing views as informed by our trip leader. The initial part of the trail was a slow downhill. We passed through villages. The trail had waterfalls and was fully covered with trees. Gradually the terrain became tough and rocky.
The sky was clear, bright and sunny. Tengboche has Monastery next to the teahouse. Also one can have an excellent view of Everest from here.  There were ample valleys and continuous river flowing on our way. As a team my son and me walked quite slow without competing with anyone. Sanjeev Rai and our local guide Dumbar continuously accompanied us.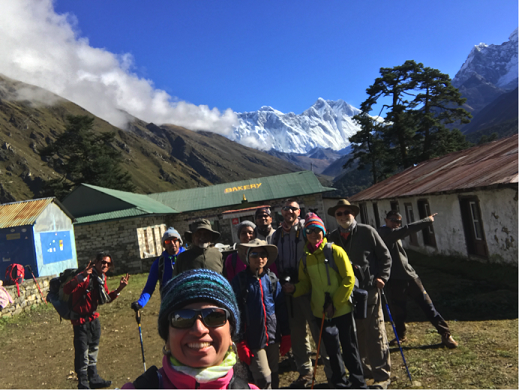 Tengboche-First View of Mt.Everest, Selfie moment, Picture Courtesy: Meera Prashant
Post lunch, was the steep ascend. "WOOF", But with no choice we moved ahead. By now the sight of the homestay (with or without Flush J) would bring "TWINKLE" in our eyes. Evenings were well spent with cards games. Angad gave tough time to "Rajpal Bros". Post briefing the day was called off.
Day 7,Dingboche, Acclimatization walk to Imja Valley
A break day by now seemed a luxury. Waking up late, breakfast at 8:00 Am, WOW we just loved the idea. We heard loads of stories from our guide Dumbar. The trail was steep. We were instructed to keep our heads covered from the cold wind. We walked for about 5 hours and then were back to our teahouse. It was a relaxed easy day with happy faces. J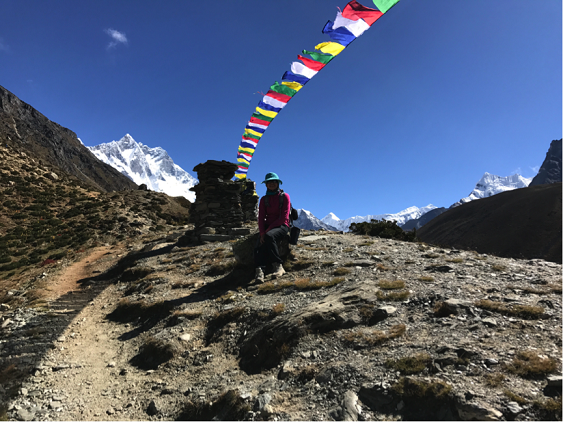 Imja Valley
Day 8, Dingboche to Lobuche(4900m)
Reaching your destination can be indeed exhilarating, but the journey can be equally demanding.
A very tough day, though the path was majorly flat, but the steep uphill of 3-4 hours was very strenuous with a kid. Yes my son did get frustrated and bored as it seemed a never-ending trail but with his sportsman spirit he never complained. We had light drizzle on the path, which was fun. We were way behind the group and walked almost an hour without any guide, but honestly it was fun and exciting. It was indeed the most romantic walk of my life unfortunately, without the any romance or ROMEO nearby. J
 
Scott Fisher Memorial on our way was a few minutes' halt. The walk after this halt was flat, dry and rocky. The walk seemed endless. We reached our teahouse at Lobuche and were treated with hot masala chai. By now most of the members had acclimatized well. There was lot of discussion here with our trip leader as to go ahead for EBC the next day or to take a break as per itinerary. At this point I was very clear to stick to the original plan, as the break was much needed for my son. Finally the trip leader agreed to stick to the plan. I was glad, happy and satisfied. Angad was thrilled as he gets to sleep late and play more with "Rajpal Bros".
Day 9, Loubuche(4900m), Acclimatization walk
A relaxed day was much needed break. Post our breakfast we went uphill for a short walk. Loads of pictures were clicked and videos were made. It was more like a picnic up on the hill.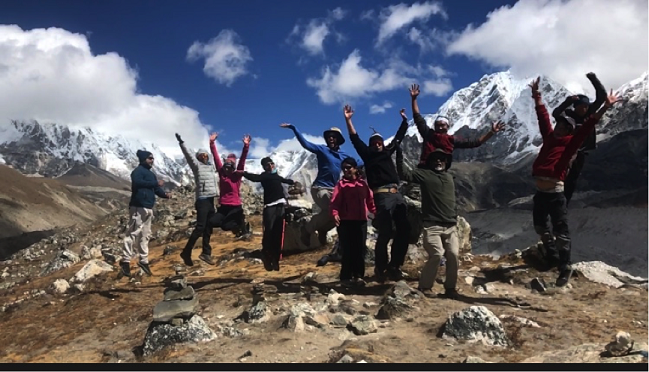 Jumping Jacks
We carried refreshments Nuts, Chocolates, Energy Bars. Mumbai style Thepla's, by our Miss blogger Prerna Sinha were awesome. We were back to our teahouse for a hot lunch. Evening time was relaxed and a detailed briefing for our next big day was given. Every one was excited and anxious too. Dinner was served by 6:00Pm, as next day was an early start at 5:30Am.
Day10, Lobuche to Everest Base Camp(5364m)descend to Gorakshep(5140m)
A day all of us had been waiting for. We woke up early at 5:30 Am. The walk began at 7:00Am. It was a long walk, majorly flat and sometimes rocky, dry and windy. Keeping my last experience of EBC in mind (2015 I did the same trek), I ensured I had full meal before we started the trek. Honestly food is my lifeline, I just cannot do without it.
As a team my son and me did stick together, we motivated each other and of course we are a good company to each other. The best part of any trek is the amount of time you get with your companion. At times I wondered what made me do this again, as it seemed like an endless walk.
The weather was cold, windy and the terrain a major ascend. We were tired and were at the end of the group. Finally we were delighted to see EBC from a distance. But once you spot EBC the trail till EBC seemed endless, as if we were chasing a mirage. By now my knee was in bad shape, I was on painkillers daily, but I knew I had to do this. So with strong motivation and determination as a team we made it. Yes we were finally here, at EBC JJ
It was fascinating, exciting, exhilarating, a feeling which cannot be expressed in words. A journey we took together with sweat and pain seemed accomplished. There was a sense of achievement, not because I did this but because my son Angad reached here after quite hardship, determination, and discipline. There was no doubt that we had come so far because of great support of Sanjeev Rai and Dumbar.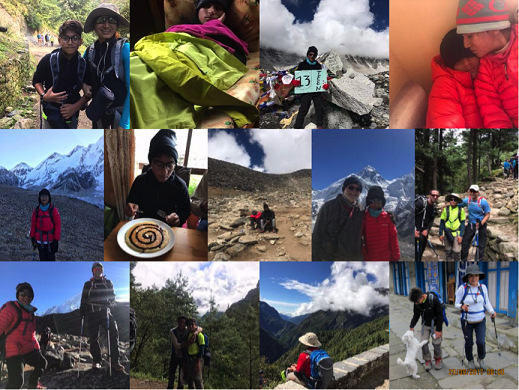 Base Camp - Happy Birthday Day Son, We Made It !!
We clicked loads of pictures with the entire WM team including porters and sherpas. No doubt they were constantly behind our success. For me as a mother it was the best moment of my life, as my son had reached his destination in good health. I was tired and also relaxed. I clicked loads of pictures; I was carrying a banner all the way from Delhi ("13 TEEN"), Angad was thrilled, surprised and happy to get clicked. After spending almost an hour, we headed back for a long walk to our teahouse. On our way back it was a delight to drink hot tea with Sunil. He had been carrying Chai in a flask during the trek. We were tired, exhausted and yet relaxed. I gave Angad a good foot massage, and as a team we did discuss and mentally prepared ourselves for next big day. Our halt was at Gorakshep.
Day 11,Gorakshep to Kala Patthar(5500m)descend to Lobuche(4900m), Thukla(4600m)
 "One Last Day, One Last Chance, One Life, One Try"
Way back in 2015 I did not trek to Kala Patthar due to severe headache. But this time I was determined to do this with my son.
With my experience I knew there was no scope for morning breakfast as we had to start our walk as early as 5:00Am/5:30Am, and walking empty stomach is not my cup of tea. So as a smart woman (well at least I think so J) I picked up six boiled eggs the previous night. Dumbar was surprised at my request of 6 eggs. But I knew I had to fill my stomach. I paid 1500 Nepali RupeesJ for the same.
So we woke up at 4:00 Am, had boiled eggs and got ready for our big day. We were briefed in much detail about clothing and refreshments to be carried. Though we were prepared for a long strenuous walk, as a team we decided to give our best shot, listen to our body and cut it short if required.
The weather was very chilly and cold. The climb as very steep, it was indeed the most difficult walk of my life. We were wearing two pair of socks (woollen along with other thick pair). Two of our members could not bear the cold; majorly as their head cover and socks were not as per the weather condition. Here as a regular trekker I must say I always stick to the advice of the trip leader and it has always worked well.
The "Rajpal Bros" completed the climb almost in 1.5 hours. That motivated us to push our selves. By now Prerna, Sunil, Angad and me were almost at the end of the group. We stopped in between at a viewpoint (name given by Dumbar). We had water break and some refreshments. While sitting here I did feel like giving it up. Also because I was told that the view was same from this point and from the highest point of Kala Patthar. Here Angad asked me "Mamma is the view better up there or the same" to which I replied "Obviously it would be better upwards". "Then lets do it," was an instant answer from his side. This moment was my calling; I felt that never again would I come here, this was my last chance, so why not struggle further to go up. Time did not matter to me; I was in no hurry, only the distance had to be covered. So I told my son lets push ourselves, we have gone through too much struggle to be here, why leave the last stretch. Lets reach no matter how much we need to push ourselves.
I shouted and called Prerna and Sunil behind  "lets do it, lets not bother about time, and lets just give it our best shot". That motivated them to push and finally we started upwards. I must say this last 45 minutes were the most challenging, difficult and yet exciting part of the trek. We pushed ourselves and worked really hard as a team. Again and again I looked at Sunil and told myself if he can come so far at this age, why cant I do the last bit. So without thinking much about our destination, journey and time we walked ahead. Towards the end there was no trail, it was only big huge rocks. Finally we reached our destination, which seemed impossible as we set out. We were thrilled, as all of us had reached me, Angad, Sunil and Prerna. The best part was the team effort.
I wanted Angad to sit on the tip of the highest point, which was quite scary and dangerous. With the help of the Sherpa, Angad crawled up; he did say "Mamma I am scared" and me like a strong mother said "Darr Ke Aage Jeet Hai". But when it was my turn to crawl up I was literally shaken up and our Sherpa with smile repeated the same words, "Didi come forward, Kyon Ki darr Ke Aage Hi Toh Jeet Hai".J J So without much choice I crawled up and now we were at the highest point of Kala Patthar.
Kala Patthar - My Super Kid, Priceless Moment
So finally after much struggle, pain, breathlessness we were here. There was deep sense of accomplishment, not because I reached here after 2 attempts, but because Angad did it at an age of 13. Loved every moment while we were here.
Kala Patthar has better view of Mount Everest than the base camp. In fact, 50meters below Kala Patthar one can have 360-degree view. It is this view that makes it more attractive than the base camp. In fact, we met couple of trekkers who did not trek to the base camp but did kala Patthar.
After almost 40 -45 minutes halt at our destination, we started the downhill. By now Angad was dead tired and sleepy. It was Sanjeev Rai's patience and ability that made him walk back to the teahouse. I was equally tired and my knee had given up, I literally dragged on my way back.  After reaching the teahouse at Gorakshep, we celebrated, laughed and clapped for each other's successful attempt. After a hot filling lunch left for Thukla.
The walk seemed endless again, but there was a deep sense of satisfaction and contentment.  My knee was giving me tough time, couple of times I was in tears as I held my son. Yes he pushed me continuously saying, "Mom we have done it, just need to be back". Sanjeev Rai and Dumbar were continuously following up with me on my health. Later Dumbar went ahead to check for space availability for night stay at Lobuche
We reached back to Lobuche, met Dumbar there and seeing my condition he made me take a short break of 15 min, we had Ginger Tea and Coconut Biscuits. This short break was a big relief. Later we continued our walk and after about 2 hours reached our teahouse, Thukla. For me this was the toughest day. I was drained emotionally and physically. But seeing my son doing every bit to make me feel comfortable was a delight.
At night we celebrated our successful attempt to EBC and Kala Patthar as a team. While leaving Delhi I had packed two Cakes, Candles, Knife and Lighter. Honestly I carried this as a Birthday Cake, to surprise Angad, but later felt that it would be great idea to make it a team celebration post our attempt to EBC.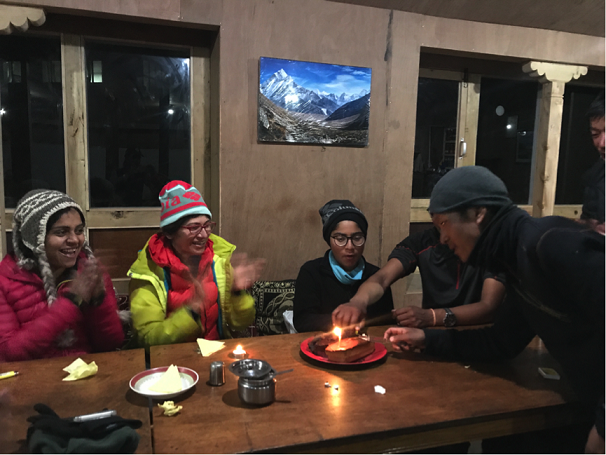 Life is a Celebration
Day 12-14 (Descend) Thukla(4600m)–Tengboche–Monjo–Lukla(2800m)
By now we were all mentally relaxed, we knew we would make it unlike the climb. So there was more fun, conversation and jokes on the way. We stopped at lot of places for clicking pictures. In between there were breaks for Coffee /Tea / Cakes.
For me good food is a must during travel times. Calories, Carbs, Fat these words absolutely have no meaning. I believe that there can be no fun without food. I think that's also a typical Punjabi mindset I can't let go off. So I was binging all the way.
 We had our night halts at Tenbgboche, Monjo and Lukla. We were all looking forward to good hot shower, but were not lucky enough at Tengboche.
The next day we started our usual relaxed walk towards Namche Bazaar, However we were told that Namche was all booked.
I was keen to shop for some gifts, for the porters, as they were our backbone. So after a short break at Namche Bazaar for lunch, I went ahead to shop with Prerna and Rahul. I must say Rahul cracked too many jokes and kept us entertained throughout. A short walk further took us to Monjo, our next teahouse. This place was a delight. We had attached washrooms with hot shower.
Most of us took shower before dinnertime, we celebrated Meera's Bday here, and WM team had organized a wonderful cake. It was fun to see few Germans wishing Meera happy birthday in their language.
For me last two days were my testing time. My knee had given up completely and I felt no longer would I be able to drag further. Sitting on a chair was a tough task. I could not bend my knee at all; I had to sit with my legs straight on a short table. At this time I got lot of relief from a special bandage that Prerna had. She applied and fixed my knee post dinner. I did inform Sanjeev and Dumbar about my health. They mentioned, in case needed a horse could be arranged. Though I was mentally strong enough to walk for my last day, I also felt that it was not worth taking the risk. The day was called off at a happy note.
Waking up next day was a different feeling altogether, Sanjeev and Dumbar checked with me on my knee. I was comfortable but the trail was expected to be mostly downhill. So with a deep breathe in I started again. It was the last day of our walk; we were excited and relaxed. Sanjeev and Dumbar were happy that the group was back in good health. We also heard some wonderful stories from our porters. After couple of breaks and a long walk of 6-7 km we reached back to Lukla. It was lovely to be received back by the same lady we met earlier. Hot Chocolate, Masala Chai, Pakora's was served quickly. We all clapped, hugged and celebrated our success. It was indeed a team effort. The teahouse was comfortable; we had attached washrooms and hot shower.
During last few days of the descend Angad had become good friends with "Rajpal Brothers". It was probably next generation talks. They spoke about soccer, digital apps and mobile games. Together with them Angad covered the downhill in half the time taken by me. As a mum I never ever try to control his movement. I knew he was happy, chilled and enjoying his time.
We all took shower, got dressed for the celebration party at dinnertime. It was fun to see the WM team and crew in relaxed mood. They had worked really hard to make this a success. We had speech from Sunil and Ashok. All of us thanked the WM team.
The next day we said goodbye to our WM crew and took the flight from Lukla to Kathmandu. It was fun to be at this airport. It looked more like a sight seeing spot with most people clicking pictures and making videos. Finally we took our flight and were back to our hotel at Kathmandu.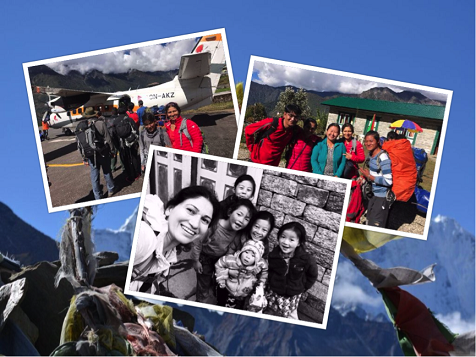 Downhill on way back - Happiness Unlimited, Background Picture Courtesy: Sanjeev Rai
Day 15-16,Back to Kathmandu
It was lovely and refreshing to be back to Kathmandu. The hotel staff greeted us and made us feel comfortable. We had an extra day here as we had skipped contingency day at Lukla.
Kathmandu was more for sightseeing, shopping. I was clear that I had to finish my cash J that's another holiday rule. Spend what you are left with and have a blast. So my junior and me shopped for some Nepali T-Shirts, Beaded Bracelets and Nepali Stoles.
I must say we had some awesome food. We eat at "North Field Café". We had amazing Grilled Fish, Pork, Salad, Brownie and Ice cream. In fact during the last two nights at Kathmandu, Both mommy and son had almost 5-6 scoops of ice cream per day. Dinner was Pizza at "Fire and Ice" as recommended by "Rajpal Brothers". It was a feast to eat all this post Dal-Bhath. "Mandela Street" at Thamel is a strong recommendation for food, music and window-shopping.
Day 17,Back to Delhi, Home Sweet Home
Finally we were heading home. There was happiness and satisfaction that we had completed our journey.
There were ups, downs and lessons learned. Every travel teaches you a few aspects of life. I believe one must have a positive approach towards life; live it fully and never ever let go of humility. I also came out tougher and stronger.
For me personally it was an unbelievable journey with my son. As a parent I take immense pride in the successes of my son, ensuring my son does things, which are challenging, demanding and yet interesting. I am equally proud of his failures and learning's.
During the trek people were surprised as this was my second trip to EBC and often I was asked what made me do this again. Frankly I do not know the answer. I guess it was simple joy and happiness of a child. As a parent I do things which give me happiness but I also love to do what my son enjoys the most, be it soccer, swimming, running, cooking, travelling the list is endless.
There is one message I would like to give to every parent. Kids are what we make of them; invest in time, share and exchange thoughts. The best part about a trek is the amount of time you get to spend with each other, living with the basics of life, it keeps you grounded and one can appreciate simplicity of life.
I believe that every child enjoys being close to the nature though the level of toughness of a child decides the challenge they can bear comfortably. So trekking is not a big deal for a kid but definitely it is a trial and testing time for a parent, the biggest challenge is having the patience and ability to deal with calmness.
So let go of Perfection, Rules and Protocols. Do a Dab, Take a Chill Pill and enjoy the Madness up in the hills. !!!!
Some Useful Tips:
- Kids at any age have more energy, stamina and will power. They would always do better than a parent, so self-concentration is more important.
- During the trek, kids are busy focusing on uphill or downhill, so don't be an over protecting parent. Relax and just let them be, also accept peacefully if things go haywire and out of control.
- All kids can do trek and adventure but all parents cant. Take a call accordingly.
- For kids, ensure safety, do keep a check, but make sure they mingle with other trekkers. Don't restrict and have boundaries. Let them be free, no rules and no pushing. The guides / trip leaders have good experience in handling them well. Speak and check their comfort level daily.
- Train kids in using wet wipes / toilet roll before you begin the trek. With younger kids, the parent needs to do the cleanup part – cleaning smelly feet, body, underarms and even for pee and poop. So be prepared.
- A kid cannot manage packing and unpacking, low oxygen level makes it further tough for a parent.
- Insurance – Though it's a personal choice, with my experience I would recommend having insurance is a good idea if travelling with kids.
- Water intake needs to be between 3-4 liters. Also if no pee point in between there are ample of rocks and bushes, no baby you cannot be shy here.JJ Ensure you prepare your kid mentally for the same.
- Diamox / other medication – Keep the Trip Leader informed on your choice and stick to your decision, makes life simple. For kids, please check with your pediatrician, half tablet recommended.
- Medical Shops – are available throughout till Tengboche, however one cannot rely on the quality. Carry all medication for kids.
- Carry your country ID at the local airports. Passport is not mandatory for domestic travel within Nepal.
- Currency exchange– One can easy covert INR / USD to Nepali Rupees. You don't loose much even if you are left with cash at the end and exchange it further.
- Clothing and Gear must be as per checklist.
- Layering is better than one thick jacket; head coverage (multiple layers) and rain wear of good quality.
- Socks – Multiple pairs (I change socks daily, and keep a separate one for the evening)
- Instead of Deodorant, one can carry Talcum Powder, as using Deodorant in cold environment is not comfortable.
- Good quality hydration bag or a thick mouth water bottle with insulation cover is recommended.
- DSLR/Camera –not a heavy one, keep it light, there's enough to be carried.
- Nepal has teahouses throughout, and there are kids on the streets all over smiling and waving at tourists, it is a delight to gift them with stationary items - pens, pencils, colors, drawing books, erasers, whistle etc. rather than chocolates and candies. Carry these from your home. On your way back you can even let go of your leftover eatables.
- Greet strangers on your way. Smiling J needs only 17-26 of your muscles.
- As one goes up during the trek, the prices go high, so buy your basics if needed at Kathmandu or Namche Bazaar. There are original branded stores. Trekking Glares and breathable Buffs are must buy.
- Nepal has charging facility at every teahouse but it comes with a price.
- Wifi and Telecom network is generally of decent quality and expensive
- SIM cards can be bought immediately at Kathmandu, carry few passport size picture always.
- Recharging cards are available till Tengboche. Prices are steep.
- Indian Debit Card and Credit Cards are accepted till Namche Bazaar. Also ample of ATM Machines in Kathmandu (500 Nepali Rupiah is charged on each transaction). Don't let money stop the fun.
- Nepal's economy is dependent on tourism; hence one must buy local products at the teahouse. Spend your money on Tea / Coffee / Refreshments and anything you need, you are making a difference to someone's life.
- Overthinking may not help. You cannot save much. Water tablets are available but bottled water is preferred. Expensive, but dear then don't have choice either. You can also buy boiled hot water.
- Listen to your Operator / Trip leader. Trust them, they know the best.
- Humility and Soft-spoken words are a must.
- Animals and Pets – One can see Dogs, Yaks, Horses and Mules. Good to see, nice for selfie too, once annoyed, considered Zombie J J.
- Carry a Travel journal / Dairy. Try to record your daily activities. Especially for people like me, who need to trek twice to recall a single mountain (Oh yes I remember Mt. Everest J).
- No you cannot take shower; don't even ask that question to your operator. You will stink no matter what, be happy that you made it.
- For Hygiene, one can carry toilet seat sanitizer and disposable paper toilet seat covers, available online.
- If travelling with kids, carry some quick foods – Chocolate's, Energy Bar, Cup Maggi, Pea Nut Butter, Pickle, Canned fishes, Thepla and Ghee (For Punjabi Kids J)
- Stick to Dal-Bhath as much as possible; avoid Non Veg (Eggs are safe) and no wastage of eatables.
- Fitness – Mental fitness is more important than physical strength. Light cardiovascular exercises like walking, running or swimming would be ideal. Yoga- Pranayama is helpful to prepare against low oxygen. Stair climbing is wonderful too.
- Altitude Sickness (Acute Mountain Sickness)- Trust the guidelines laid by your operator. Slow pace of walk is best.
- Keep your trip leader / guides informed on any health issues and TRUST them.
- Tip the crew out of sheer happiness and not compulsion. Do it only if you desire.
- Eat, relax and have fun with food wherever possible. Nepal has some very good bakeries throughout. An inch here or there of FAT will be compensated. After all good food goes well with good view.
- No competitive spirit, walk at your own pace. Be a motivator and push other members. Team spirit is must. (Anyway you wont get a medal up there)
- Smile more, be thankful, and no complaints - The crew puts in heart and soul to make your trip successful, have gratitude.
- Positive and Constructive feedback is welcomed.
- If you are a parent, ensure your pockets are full of love, love and love. It will be returned one day.
Happy Trekking and Happy Parenting as I look forward to my next trek with the same team.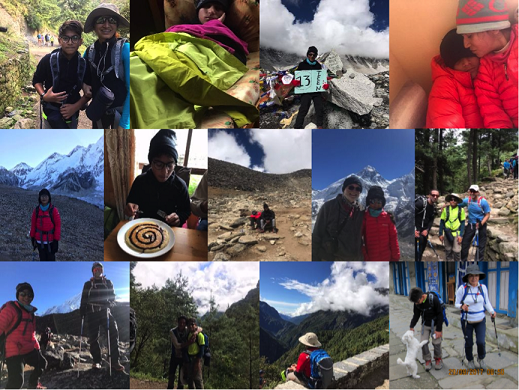 Some Priceless Moments
---
SHARE THIS STORY